Ask about our mobile services!
Winterizing
– Add fuel stablizer, engine fogging, lower unit (gear) oil change, battery test, prop shaft greasing, greased fittings, overall inspection, and block drain & marine anti-freeze on inboards; inboards (I/O) come with oil & filter change
Shrink Wrapping / Winter Storage (indoor/outdoor)
– Shrink wrapping for your boat at an unbeatable price
– Fully gated, 24/7 camera monitored storage yard
– Pick-up/ drop off service also available
– Our prices include the thickest wrapping available (for boats) for ALL our boats (protects against UV rays),  shrink wrapped from the bow to the back of the motor(s), as well as covered prop and vents at no extra charge! 
Acid hull wash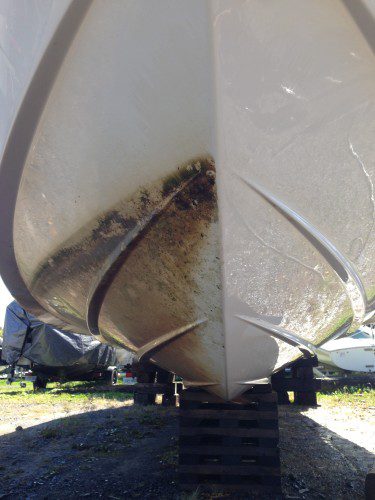 Also available for boats with anti-fouling paint

Can't identify what the color of your boat is? Bring it back to life with a complete removal of algae off the hull of your boat.
Wax, polish and buffing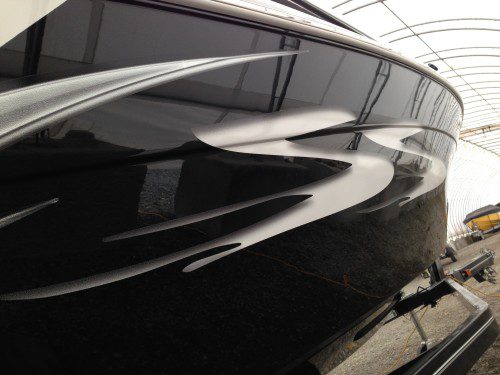 One stage wax (for maintenance and color enhancing)
Rejuvenate and protect your investment! This consists of applying a high quality wax coating with a speed buffer to bring that color back to life. This one stage wax procedure will clean the surface of the boat and protect it against UV rays and water spots. Please ask us about our hand application of paste wax for absolute best results! Mostly for boats that are already in very good condition,
Two stage polish & wax (for boats with minor oxidation)
Bring the shine back! This consists of a deeper clean and polish of the boat to remove minor oxidation, scratches and water spots that appear on the gelcoat over time. Then, we top it off with a wax coating to protect and bring out that brilliant gloss you've always wanted back. Again, it is possible to upgrade to a better paste wax for ultimate results.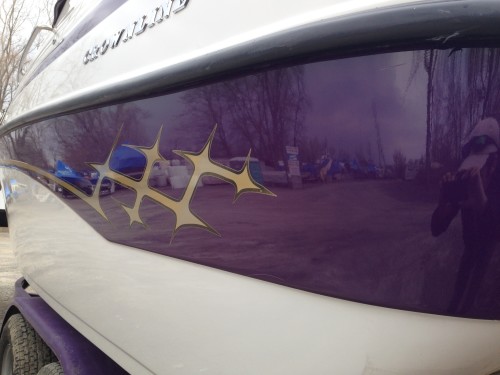 Three stage buffing, polish & wax (for boats with heavy oxidation)
Make your boat as nice as the day you bought it! This package consists of applying a heavy oxidation compound to the boat in order to remove heavy oxidation, swirls and scratches. Then, a deep polish will bring the shine and color back and prepare the gelcoat for the final coating. To finish it off, we wax and seal the boat to dramatically enrich the color and shine of the gelcoat. This also provides and extra protection against strong and harmful UV rays.
.
.
Detailing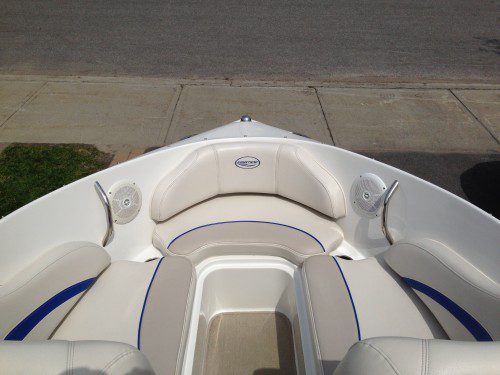 Complete interior detailing
This package includes a complete hand wash of floors and interior, complete degreasing and spot removal, seat (vinyl cleaner + mildew protector) and window cleaning, dashboard detailing, vacuum interior and floor mats, full cleaning of your compartments, as well as a hand wax of all fibreglass surfaces inside the boat.
Complete exterior detailing
This package includes a gel and pressure wash of the whole boat to remove any physical residue. It also includes brushing the deck and the removal of any scum line. To finish it off, a thorough hand wax of the exterior surfaces all around the boat will bring the shine back.
Interior & exterior detailing
Ask us to combine both in a package to get the best quality for value.
Wet sanding
The ultimate package; your boat will look brand new again. Made for older boats that are extremely faded and oxidized. Word of caution: you may not recognize your boat and may think it just came out of the dealership.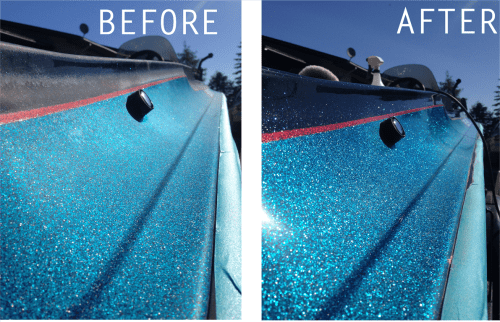 Indoor/Outdoor Storage

Please note we are not responsible for checking status of boats during winter. 
All prices are dependent on condition and no quote is final.